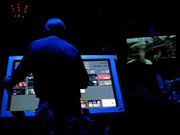 Essay assignment for Remixable Media:
Note: The essay is now due on the 5th of September, rather than 29 August.
1500 words In the essay, you will examine the implications of remixable culture on one individual or group's media practice.
Your analysis should cover the significance of remixing on the way in which an individual or group's ideas are communicated, and assess the effectiveness of remixing as a form of communication/expression in this instance.
Essays must demonstrate that your have thoroughly researched the topic, and have a strong grasp of the theoretical terms introduced in this course for understanding the attributes and significance of remixable media. Essays must include relevant references, situating any arguments clearly within contemporary literature on remix culture.
The following are examples of the kinds of questions that will help you in analyzing the remixable media you choose to investigate. *who is/are the creators of this media? Are they 'prosumers', 'produsers', professionals, 'pro-ams"? *How does this affect their media practice? *how does the subject's use of remixing fit into/break with earlier traditions of remixing (as described in Horwatt, "A Taxonomy of Digital Video Remixing: Contemporary Found Footage Practice on the Internet", for example). *how effective do you think this individual/group's use of remix is, in the context of the purpose of their media practice? *if it is an artistic remix, how well do you rate it, and why? Is it original? Does that matter? Why? *If it is a political remix, how effective do you think it is in getting the creator/s' point across? How so (or not)? *If it is a commercial venture, how successful do you think it might be, and why? *evaluate the ethical dimensions of the remix/able media in question. Consider using the ethical criteria laid out in Sinnreich et al.'s "Ethics Reconfigured" to argue your position. *If you believe there are ethical problems with it, argue why this is so. If you find it ethically sound, argue this point. *legals: what legal issues are involved in the particular area of remixable culture you are looking at?
Here are a few blogs you might find useful in your research: http://www.remixcomps.com/blog http://www.everythingisaremix.info/ http://remixtheory.net/ http://hipsterrunoff.com/tag/remix-theory?quicktabs_1=3 *
Below are some topics under consideration as essay topics for this course: Luciana: ABB employees complaint about a new HR policies using "YMCA" song from Village People. In the video they are saying that after years, ABB is leaving them with nothing. (ABB fired employees in Spain and hired in Turkey).
thumb|300px|left|Employees are saying ABB left them with nothing
Daniel: I am thinking about writing about the interconnection between children's toys and film. I have two specific ideas, either writing about toys that got adapted into movies, like Transformers, and the change of something physical without a narrative into something digital with a narrative, or looking at the specific example of LEGO and how the company adapts movies, like Star Wars, into Toys and how there is a recent trend in creating videos using lego characters.
Paul: On the gaming front, Valve's Source Engine is available for remixing. This has lead to an explosion of mods for the game, some of which have become commercial (though it is pretty much up to Valve whether they will allow a mod to be sold). In particular: Garry's Mod is a platform for further remixing, which has in turn spawned numerous web comics, machinimas, and new games. This is an interesting example of remixing working well. At the same time, HalfBrick's Fruit Ninja is being copied left, right and centre (with games such as 'fruit slice' commonly borrowing on IP). HalfBrick's strategy for combating this is through small 'tricks' or 'tweaks' to make the game a better experience that copies will not use, ensuring that their game is constantly of higher quality. Overall, there's a culture of remixing and cloning in games which is unseen in other media, particularly in the realms of remixing mechanics. When starting out, the first advice you're usually given as a game dev is to make a clone of a simple game, and unless you make a very detailed copy, there usually isn't any problem with this.
Hong Ma: A video called a murder caused by a steamed bun created by HU GE, a chinese director, was seemed as the first and the most successful remixable work in China. After this video, there were large numbers of remixable products beginning to appear on the Internet. The works from HU GE mainly remix plots of some famous films and TV programs to criticize social issues.
Yuna: As the proliferation of Apple devices like iphone/ipad in our life, games in App Store have become increasingly popular. In this case, what I am interested in is how far we can remix these games to develop new games or how much can we do based on the original games. Here is an example link which provoked me this idea: http://6thmega.com/design/open-source-remix-this-iphone-game-114.htm
Xie Qin(Jessie): I am think about writing something about the movies that based on video games, like Resident Evil or Tomb Raider. Those game-based movies usually create based on the storyline of the video games or the characters from them. Those movies have already got a lot of fan before its producing. So I will discuss this topic from the aspect of the commercial viability and media-historical context. Another topic I am think about is the remixable music. There is a pop band in China called Huaer. It was criticized that some of their songs wasn't their original work. They copied the melody of the songs from other countries that Chinese audiences are not familiar with. Here I will focus on legal and ethical problems in this case.
Claudine: 'Pictures tell a thousand words' but what are they saying, and why? Analysing the effectiveness of remixing of photos of current events and their distribution through social media. http://whoosh.org/issue58/ecks1.html
IS FAN FICTION LEGAL? Fans loves the particular movies or novels, so they created fan fiction, fan fiction is usually spread among internet community. Fan fiction usually has not get permission from the author. United States copyright law has something about fan fiction, but what about other counties?? Yabin
My topic would be about how songs remix can help old music to be back on hits.
Ana XI ZHOU: The subject I want to analyse is a series of remixable films made by netizens. More and more netizens remix the resources on Internet and create remixable works in order to express their opinions on some specific issues. For instance, recently a Chinese netizen create a remixable film, expressing his resistance of re-making Chinese classical dramas. After he posed the film on the Internet, he received a lot of respond and support.
Rex Zhang: A funny cartoon remixable video combined with Barack Obama's image. It released in June19 2009, in this period of honey moon, a new president was described as a superhero can fix US even save the world.3 years pasted, Now only 1 year left for the superhero Obama.Its a little bit irony to assess his presidential performance.In this case, I want to analysis the narrative of a cartoon remixable video,and the functional and effectiveness of communication.
Yuan: Remixing music on home video using is more popular now, Maybe one music is not well-know, but after remixing everybody knows it because of remixed pictures rather than the original one. But this issue still involves the copyright and moral aspect. I am going to focus on this topic in order to find the balance between copyright and remixable using .
John: I've been following British audio/video remix parody duo Cassetteboy for several years now. I find their work particularly interesting because it treads the boundaries between three of my favourite topis: stupid puerile filth, offensive personal insults and sophisticated political satire (which is certainly also the case for remix culture in general, but seldom the case for individual remix artists). I'm interested particularly in how their growing prominence and maturity has shaped their work, evolving from crude (in every sense) audio mashups like the Clarkson piece to video-based work like this Barack Obama satire from 2011 commissioned by Amnesty International; as well as looking at their influence on the wider remix community both in the UK and worldwide. My main focus will be on the political and aesthetic, although there are also obvious legal and ethical issues that also need to be discussed.
Angela: I'm going to write about book mashups, specifically the work of Seth Grahame-Smith, who has written Pride and Prejudice and Zombies and Abraham Lincoln, Vampire Hunter. I will look at why these texts are up for remixing (copyright, public domain), how Grahame-Smith's background in film may inform his interest and approach in this kind of writing, and how successful the books (and film options) have been commercially.
Anthony: I'm interested and looking at corporate logos and how they can be transformed to mean something else, often political activism. It's often a cause and effect of a companies self portrayed image and what is actually happening due to the companies actions. A good Australian example is a woman who used the Sydney 2000 Olympic logo to fight activism of cage/battery hens. http://www.rockhate.com/articles/lead9.htm http://www.shanmonster.com/chicken/news/news005.html
Keyang: I'm thinking of taking about Kumikyoku Nico Nico Douga, a series of video medleys which was first created by Shimo of the popular Japanese video-sharing site Nico Nico Douga. The video attracted a lot of media attention not only in Japan but also outside Japan; many people began to create spin-offs of the original video after the video become popular around the world. I'm quite interested in how one piece of work can be remixed into so many different kinds of medleys and forms.
Yizhen Wang: Vancl is an online shopping website. Not until the successful remix advertising campaign, it was not famous at all. In the campaign, it creates a writing style both used in the prints, TVC and online movies, which touched the chinese young people so much that they began to mash up their own version of print ads talking about all kinds of things, like personal ads, ironic ads... But, to evoke this tendency, Vancl did more than just publish their ads, actually Vancl was the first one came out the remix ads, ironic one to mock on an actor. The whole young target market is crazy about the remix campaign, the campaign spread on every social network in China. Other organization and company came out similar ads, too. As a commercial venture, it won a lot profits from the campaign which launched both by producer and prosumers. So, can this remix campaign be copied?
Laila: In Indonesia there are many songs remix which are based on both local and international hits. They copy identical melody but sometimes with different music genre and totally different lyric. The lyric does not always correlate with the original song. I'm wondering about the legal aspect of this kind of remix because I think the producer make a lot of money from this.
Shannon: I'll be looking at the use of movie samples (dialogue, ambient sounds, special effects - NOT movie music) in the audio work of industrial band Skinny Puppy. As the band pre-dates the remix explosion wrought by the internet and is not in the rap or hip-hop genres, I'll be addressing the media-historical context behind their work (classical composers). Additionally, I'll be examining their use of these materials to make political statements in their recorded music and live shows, from angles related to both torture porn (for animal rights purposes) and political activism (particularly the Iraq War). How I'm doing all of this in 1500 words, I don't know.
Yi Wang: Recently I came across a fantastic art work which finished by an English painter. However what he draws most famous is about Australian life and culture, especially something related with aboriginal people and their life, which impressed me a lot. He combines the European and Australian painting skills together, basing mostly on his understanding on Australian life and culture. I think it's worthwhile to discuss from the the perspective of aesthetics and artistic impact respectively.
Jess: (Remixing Toy Commercials) I am thinking about exploring the "Gendered Advertising Remixer" which allows users to mix-and-match the audio from a Barbie ad with the video from a sport promoting the latest Iron Man action figure, or vice versa. This remixing media was developed by John McIntosh and is an attempt to deconstruct the notions of gender and sexuality as prescribed by advertisements for children's toys. He says that "the goal of this project is to help empower youth of all genders to better understand, deconstruct and creatively take control of highly gendered messages emanating from their television sets". Within this area, I will delve into the iconic imagery attached to certain children's toys and the many debates which have been sparked, demonstrating the effectiveness, influence and significance of such remixing media.
Top 50 Ideas for Essay Topics [[Category:Nickel: I'm going to focus on a social network website called "everyone netwok" in China. As a real-name SNS, this site integrates alumnus and give students of every level to make friends and communicate wih others. I would like to concentrate on the differences and impacts (mostly on pravicy and information security) brought by remixing alumnus (real-name registing) on social communications.]] [[Category:Summer: When Watching vedios on the Internet, people usually type their commons below these vedios. As I know, in Japan and China, there is a new format for people to give their oppinions in time and their commons could be shown on the vedio instantly. I am going to discuss its different user experience and to explore this remixable media in terms of cultural aspect. ]] [[Category:Summer: When Watching vedios on the Internet, people usually type their commons below these vedios. As I know, in Japan and China, there is a new format for people to give their oppinions in time and their commons could be shown on the vedio instantly. I am going to discuss its different user experience and to explore this remixable media in terms of cultural aspect. ]][[Category:Nickel: I'm going to focus on a social network website called "everyone netwok" in China. As a real-name SNS, this site integrates alumnus and give students of every level to make friends and communicate wih others. I would like to concentrate on the differences and impacts (mostly on pravicy and information security) brought by remixing alumnus (real-name registing) on social communications.]] [[Category:Summer: When Watching vedios on the Internet, people usually type their commons below these vedios. As I know, in Japan and China, there is a new format for people to give their oppinions in time and their commons could be shown on the vedio instantly. I am going to discuss its different user experience and to explore this remixable media in terms of cultural aspect. ]] [[Category:Summer: When Watching vedios on the Internet, people usually type their commons below these vedios. As I know, in Japan and China, there is a new format for people to give their oppinions in time and their commons could be shown on the vedio instantly. I am going to discuss its different user experience and to explore this remixable media in terms of cultural aspect. ]] [[Category:Nickel: I'm going to focus on a social network website called "everyone netwok" in China. As a real-name SNS, this site integrates alumnus and give students of every level to make friends and communicate wih others. I would like to concentrate on the differences and impacts (mostly on pravicy and information security) brought by remixing alumnus (real-name registing) on social communications.]] [[Category:Summer: When Watching vedios on the Internet, people usually type their commons below these vedios. As I know, in Japan and China, there is a new format for people to give their oppinions in time and their commons could be shown on the vedio instantly. I am going to discuss its different user experience and to explore this remixable media in terms of cultural aspect. ]] [[Category:Summer: When Watching vedios on the Internet, people usually type their commons below these vedios. As I know, in Japan and China, there is a new format for people to give their oppinions in time and their commons could be shown on the vedio instantly. I am going to discuss its different user experience and to explore this remixable media in terms of cultural aspect. ]] [[Category:Nickel: I'm going to focus on a social network website called "everyone netwok" in China. As a real-name SNS, this site integrates alumnus and give students of every level to make friends and communicate wih others. I would like to concentrate on the differences and impacts (mostly on pravicy and information security) brought by remixing alumnus (real-name registing) on social communications.]] [[Category:Summer: When Watching vedios on the Internet, people usually type their commons below these vedios. As I know, in Japan and China, there is a new format for people to give their oppinions in time and their commons could be shown on the vedio instantly. I am going to discuss its different user experience and to explore this remixable media in terms of cultural aspect. ]] [[Category:Summer: When Watching vedios on the Internet, people usually type their commons below these vedios. As I know, in Japan and China, there is a new format for people to give their oppinions in time and their commons could be shown on the vedio instantly. I am going to discuss its different user experience and to explore this remixable media in terms of cultural aspect. ]] [[Category:Nickel: I'm going to focus on a social network website called "everyone netwok" in China. As a real-name SNS, this site integrates alumnus and give students of every level to make friends and communicate wih others. I would like to concentrate on the differences and impacts (mostly on pravicy and information security) brought by remixing alumnus (real-name registing) on social communications.]] [[Category:Summer: When Watching vedios on the Internet, people usually type their commons below these vedios. As I know, in Japan and China, there is a new format for people to give their oppinions in time and their commons could be shown on the vedio instantly. I am going to discuss its different user experience and to explore this remixable media in terms of cultural aspect. ]] [[Category:Summer: When Watching vedios on the Internet, people usually type their commons below these vedios. As I know, in Japan and China, there is a new format for people to give their oppinions in time and their commons could be shown on the vedio instantly. I am going to discuss its different user experience and to explore this remixable media in terms of cultural aspect. ]] [[Category:Nickel: I'm going to focus on a social network website called "everyone netwok" in China. As a real-name SNS, this site integrates alumnus and give students of every level to make friends and communicate wih others. I would like to concentrate on the differences and impacts (mostly on pravicy and information security) brought by remixing alumnus (real-name registing) on social communications.]] [[Category:Summer: When Watching vedios on the Internet, people usually type their commons below these vedios. As I know, in Japan and China, there is a new format for people to give their oppinions in time and their commons could be shown on the vedio instantly. I am going to discuss its different user experience and to explore this remixable media in terms of cultural aspect. ]] [[Category:Summer: When Watching vedios on the Internet, people usually type their commons below these vedios. As I know, in Japan and China, there is a new format for people to give their oppinions in time and their commons could be shown on the vedio instantly. I am going to discuss its different user experience and to explore this remixable media in terms of cultural aspect. ]] [[Category:Nickel: I'm going to focus on a social network website called "everyone netwok" in China. As a real-name SNS, this site integrates alumnus and give students of every level to make friends and communicate wih others. I would like to concentrate on the differences and impacts (mostly on pravicy and information security) brought by remixing alumnus (real-name registing) on social communications.]] [[Category:Summer: When Watching vedios on the Internet, people usually type their commons below these vedios. As I know, in Japan and China, there is a new format for people to give their oppinions in time and their commons could be shown on the vedio instantly. I am going to discuss its different user experience and to explore this remixable media in terms of cultural aspect. ]] [[Category:Summer: When Watching vedios on the Internet, people usually type their commons below these vedios. As I know, in Japan and China, there is a new format for people to give their oppinions in time and their commons could be shown on the vedio instantly. I am going to discuss its different user experience and to explore this remixable media in terms of cultural aspect. ]] [[Category:Nickel: I'm going to focus on a social network website called "everyone netwok" in China. As a real-name SNS, this site integrates alumnus and give students of every level to make friends and communicate wih others. I would like to concentrate on the differences and impacts (mostly on pravicy and information security) brought by remixing alumnus (real-name registing) on social communications.]] [[Category:Summer: When Watching vedios on the Internet, people usually type their commons below these vedios. As I know, in Japan and China, there is a new format for people to give their oppinions in time and their commons could be shown on the vedio instantly. I am going to discuss its different user experience and to explore this remixable media in terms of cultural aspect. ]] [[Category:Summer: When Watching vedios on the Internet, people usually type their commons below these vedios. As I know, in Japan and China, there is a new format for people to give their oppinions in time and their commons could be shown on the vedio instantly. I am going to discuss its different user experience and to explore this remixable media in terms of cultural aspect. ]]